SugarDaddyMeet: can you meet a sugar daddy there?
A new concept of relationship is winning the planet. Now, when the idea of a mutually beneficial alliance has existed for some time, more and more people decide to give it a try. Sugar babes search for their sugar daddies and sugar daddies look for the ladies they can sponsor.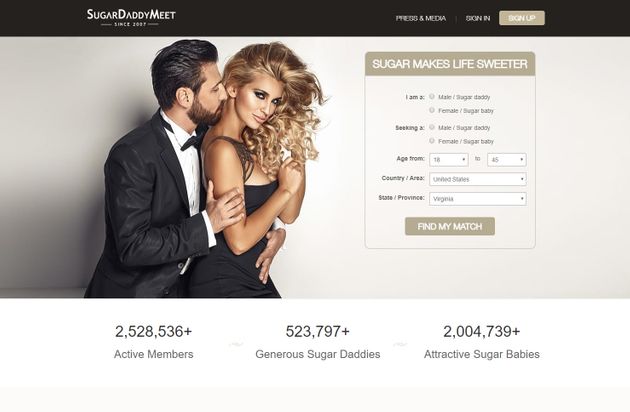 A decent platform can give a good start to any relationship, so it is vital to choose the right one for sugar daddy dating as there is money involved in the issue. SugarDaddyMeet is one of the most popular dating sites of this kind, so here is its full review for you to know what is special about this platform.
About SugarDaddyMeet
SugarDaddyMeet is a specialized dating website that provides services for those who want to find a partner supporting the idea of a relationship on special terms. Men and women look for a date who will meet their demands and aren't ashamed to say the real price for it.
The site was created for communication almost 20 years ago, and it still functions well. By the way, the amount of its customers is over 2 million, and that is an impressive number. It shows that people go on using it, which means that the quality of service is still quite high.
Ease of use
SugarDaddyMeet was made for people, so it has a maximally user-friendly interface. Even for those who visit such kind of sites for the first time, it will be no trouble to understand everything, register a profile and start talking to women. The design is simple but stylish, and you will surely enjoy your time on the site.
To sign up, you don't need much. The whole procedure is unlikely to take a lot of time. So, you fill in a small questionnaire, mentioning your name, gender, email address and some other basic stuff. By the way, this site is for heterosexual couples only, so mind that if you want to use it. You are to mention some of the preferable characteristics of your partner right away, like age, for example. Also, you have to name your country and state. That all is done to make the search more narrow and efficient for you right from the start.
There is a mobile version of the site for those who will use it not from computer only. It is very comfortable as the design is a little different and it eases the usage a lot.
Also, there is a Tinder-like app which allows you to like women and chat with them. It is also very cool, and those who have already used such app can prove it because this thing is even more comfortable than the mobile version of the site. It allows you to stay in touch with the ladies all day long, answer their messages at any moment, and the whole process of communication goes faster.
Profiles
When you use a dating site, you want to know the most about its users from their profiles. SugarDaddyMeet cares about the appearance and quality of the site, that's why it is important for the administration to provide the interesting profiles. Every user is given a few recommendations about what should be mentioned in the account.
As a rule, each personal page on SugarDaddyMeet contains some basic information about the user, like age, height and weight, eye and hair color and so on. Also, usually there are some interests and hobbies mentioned, and there can also be a little bit of biography, but not every woman on the site likes to talk about her that much. Moreover, on every account there is a price: women show what they want to get and how much is their company worth. You can judge if you want to meet a particular woman by the sum that she asks for. Such a profile setting helps a lot to not waste time on those ladies who don't meet your demands.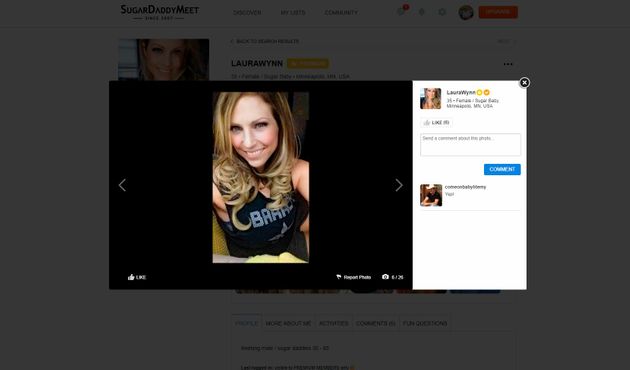 There are some pictures of every user, so you can look through them and pick a lady of your dreams.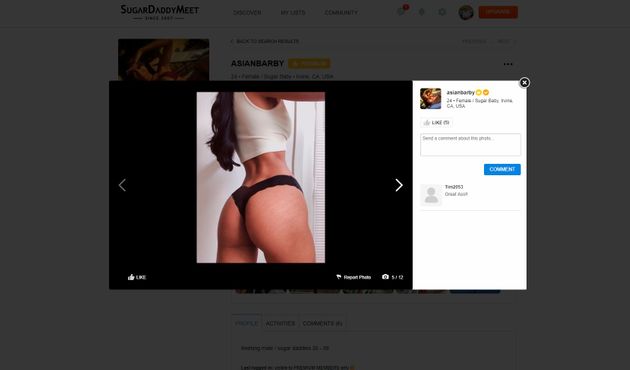 Security
SugarDaddyMeet cares for the safety of its users, so they make everybody pass a verification process. It doesn't cost anything, but it is necessary as such anti-scam protection can save your money and time. Only decent and trustworthy people get to use this dating site. When you pass this procedure, you get the "Certified Daddy" mark, which makes you attractive to the ladies.
To save your personal information, you can regulate the account privacy (hide your online status or not show your country; it is even possible to disappear from the search). It's all done for your safety.
Service
Talk to women and make your choice. Only a good conversation can clear things up.
You can:
chat;
write instant messages;
send emails:
post comments on one's pictures;
take part in forum discussions;
send First Date Gifts to see if the lady will like you.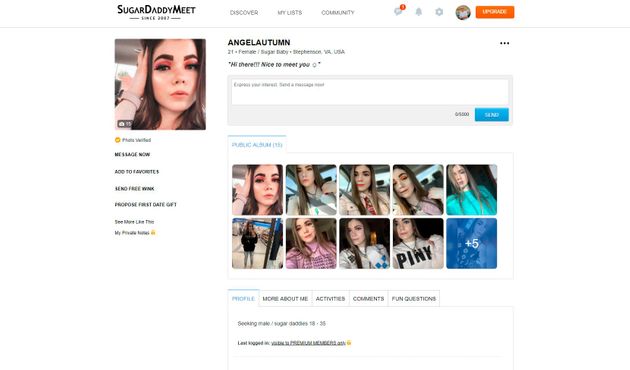 Prices
SugarDaddyMeet has a system of subscriptions of different duration.
Subscription prices for website and mobile site:
1 month subscription: $50
3 months subscription: $90
6 months subscription: $144
Subscription prices for iOS and Android apps:
1 month subscription: $64.99
3 months subscription: $99.99
6 months subscription: $159.99
You have a perfect opportunity to get one free subscription if you make a favor to the site in return. Write some articles about the site, recommend it to the others, create the press-releases if necessary and talk to the administration for more details: they organize it on regular basis and can help you to use the site for free if you follow the rules.